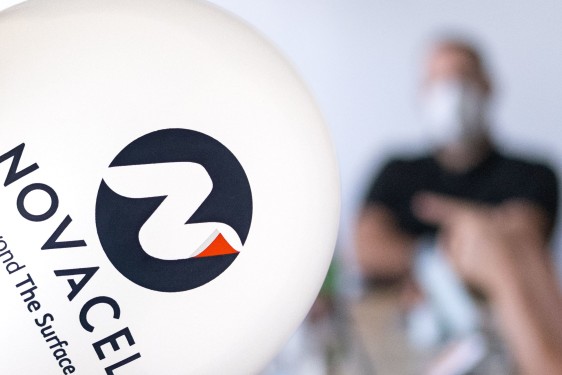 A word from the company
What if you wanted to know more about us? We offer you a fulfilling work environment, with the opportunity throughout your career to develop your skills and be able to lead several type of projects and missions. Our committed teams, located on all continents, are close to our customers and are committed to offer a large range of innovative and responsible services and solutions. Joining us is the opportunity to manage diversified activities and projects in a collaborative mode with teams always focus in our main mission, satisfy the needs of our customers . Be part of Novacel is to build together the industrial challenges of today and tomorrow, in order to reconcile economy and ecology.
Who we are ?
As a leader in its industry for more than 40 years, Novacel constantly focuses on expertise and innovation in order to provide its customers and partners with the most appropriate surface solutions to preserve the value of their materials worldwide. Offering a complete range of technical films, tapes, papers and machines, we support companies throughout their industrial processes, in all market segments. Our teams work on a daily basis to develop reliable, high-performance products with unequalled technology backed by personalized services.
"Hire character. Train skills."

Our Jobs
Key figures
+3000

customers around the world

780

International Talents

+90 countries

International présence
Discover Novacel
5 good reasons to join us
- Belonging to an international community focused on future projects - A development of your skills throughout your professional career, by regular support with targeted and personalized training according to your profile - A diversity of job positions and missions allowing you to develop your skills, and to consider, if desired, a mobility towards another field of activity or territories, or towards other territories: A career without borders. - An innovative structure backed by a large group but on a human scale - A company concerned with the quality of life at work: Balance between private life and professional life is important for us, we offer an environment conducive to personal development.
Testimonials
Novacel gave me the stability to build a family life. In the IT department, I found a close-knit team and people who trusted me. It is thanks to this trust that I was able to take over the management of the research department at the beginning of 2022.
A Career, I am confident I can retire with a fulfilling career at Novacel, the company has provided for me professionally and personally and has helped me grow as a person.
Novacel : a team of people I enjoy working with. I get to provide a quality product to our clients and customers